So what does John
Wesley Hardin (pictured to the left), one of Texas's most notorious gunslingers, have to do with the Varnells? While researching the history of Hill County in preparation for writing about

Tom P Varnell

, I came across some references to Wes Hardin having traveled to Hill County several times. A closer look showed on the 1860 federal census that he had several relatives in Hill County including Anne Hardin and Barnett Hardin.
I decided to learn more about Hardin and his visits to Hill County as it was the same time period that the Varnells migrated from Walker to Hill County. At that time the county population was small enough that residents would have known many if not most of the others. Add to this the fact that

Isaac Alexander Varnell

set up a private horse track as a way to pull prospective horse buyers to his ranch. Away from the watchful eye of local peace officers, agrarian residents could mix and mingle without interference.
Did John Wesly Hardin visit the Varnell ranch and horse track? I only have circumstantial evidence, but it makes sense that the two may have met. Hardin wrote an autobiography (published posthumously) in which he admits to a passion for horseracing. He states that he visited his relatives in Hill County more than once and usually stayed for over a week each time. While his exploits and gun fighting would have reached the ears of the locals, Hardin had little fear that they would alert the law, especially during Reconstruction when Gov. Davis's State Police irritated and harrassed the disenfranchised former Rebels.
Reportedly John Westly Hardin never stayed in Hill County for any length of time. He was usually just passing through or taking a break from being pursued. Some may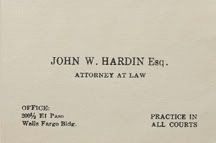 never have known of his visits if he had not written about them himself. Eventually, Hardin was arrested for killing Sheriff Charles Webb of Comanche County. Hardin escaped when word of an organized lynching (Texans seemed to have had a penchant for taking matters into their own hands) came his way. Eventually, Hardin was captured in Pensacola, Florida, returned to Texas, convicted and sentenced to 25 years at Huntsville State Penitentiary. While there Hardin studied the law and after receiving a pardon from the governor in 1894, he obtained a law license (a facsimile of his actual business card is pictured to the right). In 1895, Hardin was shot in the back of the head in the Acme Saloon by John Selman, a local peace officer, who had an altercation earlier in the day with the famous outlaw.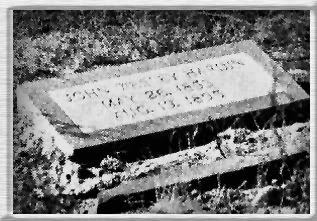 For those interested in more information on Hardin, I'd recommend The Autobiography of John Wesley Hardin. Researchers can seek special permission to access the family papers and records on file in the Texas Special Collection, Texas State University, San Marcos, Texas.

Next: Isaac Napoleon Varnell