Texas has the dubious honor of having experienced the last Civil War battle - Palmito Ranch in the Rio Grande Valley, May 13, 1865; dubious because the Rebels won the battle but had already lost the war. The first occupation troops arrived in Galveston on June 19th where General Gordan Granger announced the Emancipation Procla-mation.
Events moved Texas swiftly from Presidential Reconstruction to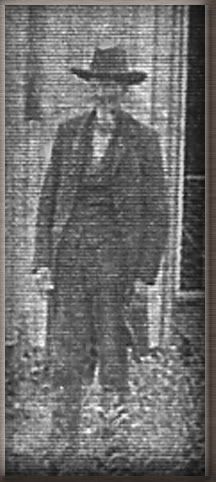 Congressional (Radical) Reconstruction. Bent on punishing the South, Congress set up five military districts. Gen. Philip Sheridan was appointed to command the Fifth District made up of Texas and Louisiana. Life changed rapidly for all Southerners as they were disenfranchised. After unionist complaints, even the courts were affected when all perspective jurors had to swear to the Test Oath of 1862, swearing that they never voluntarily supported the Confederacy.

Isaac Alexander Varnell

(pictured to the right),

like most white men, was ineligible to serve. Some courts shut down, refusing to conduct business. In Erath County, the sheriff left the county when the federally appointed district judge showed up to hold court, leaving noone to summon the eligible jurors.
Prejudice against the imposed federal government caused increased hostility between county residents and those in power. Appointed Governor Edmund Davis did not help matters when he disbanded the Texas Rangers and formed the State Police, made up of mostly freedmen, carpetbaggers, and scalawags. Many felt it was rubbing salt into an already openly raw wound.

Some Texas counties defied the directives from Gov. Davis to the point that he imposed martial law. Local citizens of Hill County refused to suppress groups of outlaws led by Kinch West and the Cox brothers and even blocked the arrest of local men accused of murder. Davis imposed martial law on Hill County and had several prominent men arrest in January 1871.
Whether lawlessness was a factor or not, the Varnells suffered a terrible loss when their second son,

Isaac Napoleon

, was gunned down in McLennan County. He was only seventeen years old. Calvin Anderson was convicted in Waco but sentenced to only six years at Huntsville. The Varnells learned early that the legal system would not always provide justice, a lesson that would come into play later.
Grave of Isaac Napoleon Varnell, White Rock Cemetery, McLennan County

Next Time: John Wesley Hardin in Hill County