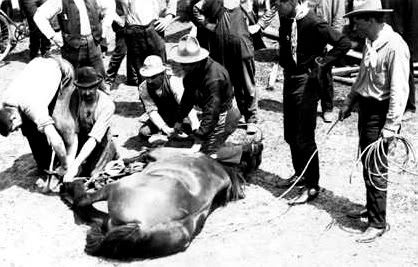 When someone mentions 'branding,' many people automatically assume the topic is about marking cattle for identification But cattle were not the only livestock to have an identifiable symbol imprinted by some means into their hide.
Branding has been around for thousands of years. The Egyptians, who loved to decorate their leaders' tombs with graphics and hieroglyphics, painted animals with a type of branding done to them. Hernando Cortez is given the distinction of bringing branding to the New World in 1541. He used three crosses as his brand. That evolved into very ornate brands that were many times unreadable. Ranchers of the American West adopted, for the most part, simple brands such as the owner's initials.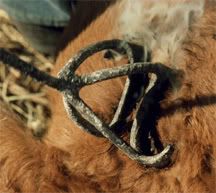 Texas started encouraging branding in the years of being a Republic but did not make it mandatory. Officially registering brands goes back to 1836 in Harris County (Houston area). Once Texas became a state, legislation was passed regulating that brands should be recorded and registered with each county clerk. Although registration was not mandatory, a rancher who lost cattle could not use an unrecorded brand in court to legally identify his lost property.
Some of the early brands have been lost due to the unfortunate fiery demise of several courthouses in the mid to late nineteenth century. The Mark and Brand Book for Hill County that can be found in the County Clerk's office goes back to 1861. This book is divided alphabetically. In the 'I' section is the listing for Isaac Alexander Varnell. His brand of the simple 'IA' was registered March 12, 1861.
Two years after the murder of his father, Tom P Varnell registered his own brand at the Hill County Courthouse. It can be found in the 'T' Section. This is what is in the record:


Name: Tom Varnell
Residence: Ash Creek, Hill County
Registered: May 22, 1878
Location of Brand: Left shoulder & thigh.
Brand: TV
Tom P also registered his mark for ears as well which was a slash across the tip. Chances are that Tom used his brand almost exclusively for the horses on the Varnell Ranch as that was their main line of business.