Isaac Napole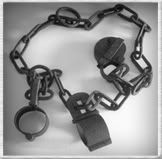 on Varnell spent the day at Patten's Mill located close to the Hill/McLennan County border in Sept. 1867. While there he was engaged in conversation with Calvin Anderson, a youth close to his own age of seventeen. The exchanged dialogue turned ugly when Calvin started yelling insults at Napoleon in front of witnesses who later testified that Napoleon did nothing to provoke the outburst. The two went their separate ways, but a few hours later Napoleon decided to find out exactly what Calvin's problem was. He approached the other youth asking for an explanation for the earlier epithets.
Instead of offering words, Calvin took a swing at Napoleon, and a fisticuffs erupted. It wasn't long before Napoleon got the best of Calvin, beating him so severely that Calvin called out for his father. A freedman standing nearby took off for the local store where Calvin's father was located. When Mr. Anderson came running, it looked like the altercation was over as the two young men were disentangling. A by-stander noticed a gun on the ground. Knowing the two young men were still angry, especially Calvin, the onlooker picked up the gun to get it out of the way. Calvin hurried over and wrenched the gun away. He retreated a few steps, turned around, and shot Napoleon without warning in front of several witnesses.
Arrested, Calvin Anderson awaited trial while a bereaved family made funeral plans. The Varnells did not have a burial plot yet in Hillsboro. They decided to bury Napoleon in the White Rock Cemetery not far from where he was gunned down. It would be a year before Calvin was tried. Prosecuting him, ironically, was Col. J. M. Anderson who two decades later would be on Napoleon's younger brother's defense team when

Tom P

was charged with murder.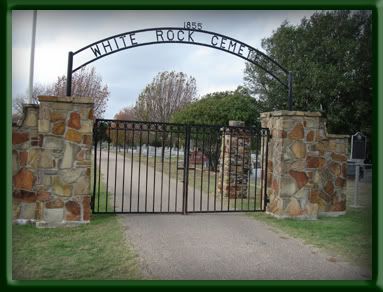 According to Flake's Bulletin, Sept. 12, 1868, a newspaper published out of Galveston, Calvin Anderson 'burst out in a laugh, that he could only suppress by forcing a handkerchief in his mouth' while Capt. M. D. Herring, another of the prosecuting attorneys, was addressing the jury. His demeanor was quite changed when the jury brought back a guilty verdict. Calvin was overheard telling his own attorney prior to the verdict 'That fellow Anderson is tareing things all to hell, ain't he?" an indication that he was afraid of Anderson's ability to sway the jury, and sway them he did. Fortunately, for Calvin Anderson the jury took his age and the lack of measured premeditation into consideration and convicted Calvin with second degree murder. His sentence was for six years at Huntsville State Penitentiary.


Would this lack of a strong sentence make an impression on the Varnell family? It's hard to say as no records exist concerning their reaction to the light sentence. What was for sure was the loss of a valued son! With Napoleon gone, the hopes and dreams of the future lay on the shoulders of six year old

Tom P Varnell,

the you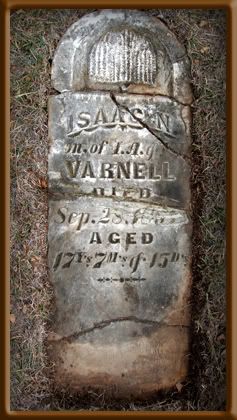 ngest of the Varnell family.
Note: Information on Napoleon Varnell, his death, and his final burial was lost to the descendants of the Varnells for a long time. While researching Tom P's story at Baylor University, The Texas Collection, in Waco, my brother, Mike Stephens, came across Napoleon's name on the list of those buried at White Rock Cemetery. Ironically, Mike has a small garden patch located not far from White Rock Cemetery. With the help of Mary Varnell Brannen, a Varnell family researcher, I located more of Napoleon's story. I have reconstructed the events of Napoleon's death through newspaper articles and the appellate records for Calvin Anderson's trial. As to Calvin Anderson, I found him listed on the 1870 Census for Huntsville but could find no further trace of him after that.
Next: Texas weathers Reconstruction