Two blog entries have already been made concerning Tom P Varnell's older brother, Napoleon Varnell. While in Austin the past three days, I decided to find out more about Calvin Anderson, the young man who decided to use a firearm to take care of his anger toward Napoleon after having been beat up by the oldest Varnell sibling at Patten's Mill.

If anyone would like to read (or reread) this story you can click on these links below:
Isaac Napoleon Varnell - Part I
Isaac Napoleon Varnell - Part II
It's amazing to me that more people are not aware of the fabulous amount of information to be found at the Texas State Ar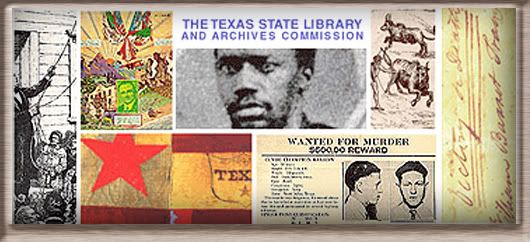 chives and the very helpful folks who work there. Being a distance away, I don't go as often as I'd like. I went last year as I was determined to find more information on Tom P Varnell, and the archives turned into a gold mine. I went back recently to work on my newest project but took time to see what I could find out about Calvin Anderson. I was curious as I had found him listed as being at Huntsville on the 1870 census but nowhere after that.

Several possibilities came to mind as life could be pretty precarious during Reconstruction in Texas. Did Calvin die in prison? Was he released and simply decided to disappear? What I found was interesting. The Archives houses quite a bit of information on convicts including:
* Convict Record Indexes and Ledgers (microfilm)
* Convict Conduct Ledgers (original records)
* Convict Discharge Travel Voucher
* Board of Parole Recommendations
* Fugitive Reward Records
* Convict Transportation Records
Since I wasn't really there to spend much time on Calvin, I decided just to check the Convict Record Ledger and Conduct Ledger. I was disappointed that Calvin was not listed on the Conduct Ledger. I noted lots of gaps in convict numbers indicating that during his time, the authorities did not list everyone on the conduct ledger. By the time Tom P was there, all convicts were listed. Calvin was listed in the Convict Record Ledger, and there I found the answer to my question: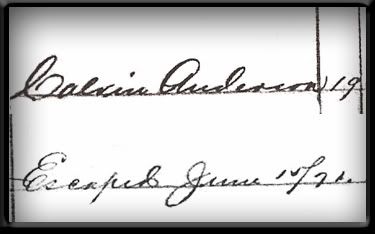 Interestingly, as I scanned around to other convicts in prison at that time, there were many other convicts who also escaped. Seemingly at that time if a convict were smart, they could take advantage of a laxity when it made an appearance. Calvin was 21 years old when he escaped from Huntsville. With no wife waiting for him, Calvin took on a new persona and effectively disappeared. His trail ends with his disappearance from prison. What the future held for him has been lost in the mists of time.