While some people adhere to the idea of 'turn the other cheek,' many who migrated to Texas in the nineteenth century were not necessarily of that mind. A certain 'rugged individualism' was needed to survive on the Texas frontier, especially during the turbulent years of Reconstruction following the Civil War. Justice could be slow or even inept. District court in the sparsely settled counties was a twice a year event, lasting only one week each time. The result would be that many times pioneers took matters into their own hands, meting out justice to murderers and thieves who threatened the progress of civilization across Texas. Was this brand of justice wrong? By today's standards, the answer would be a definite 'Yes!' But what about then? It's hard to say!
In Chapter Two of Tom P's Fiddle, A True Texas Tale, I describe the assassination of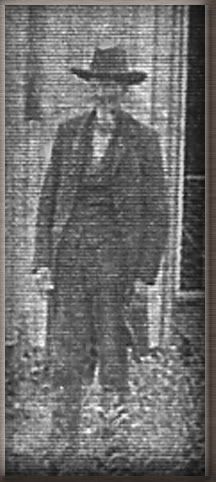 Isaac Alexander Varnell on New Year's Day 1876 while he was driving a wagon home from Hillsboro, Texas. Tom's mother, Docia, was absolutely certain who killed her husband. She gave the authorities two names. The following is an article from the Waco Daily Examiner dated Jan 11, 1876:

The Varnell Murder.
On New Year's day Mr. Isaac Varnell, an old gentleman about sixty years of age, was found by the roadside about six miles east of Hillsboro, dead, with eighteen buckshot and two Minnie balls in his body, notice of which was previously published.
Mr. A. P. Fisher and Mr. Isaac Livingstone were arrested on suspicion of having committed the deed, and undergoing a preliminary examination were committed for trial. . .
Those gentlemen were formerly citizens of Waco, and bore good characters. Mr. Fisher was engaged in merchandising here, and Mr. Livingstone was at one time our county jailor.

The Hillsboro Reflector also ran an article entitled "Horrible Murder." It called Isaac Varnell a prominent citizen who was brutally assassinated. Here is a quote from that article:
…When found his overcoat was under his head for a pillow and it is supposed that he lived long enough to draw in and place it there himself. The atrocious deed was not committed for the purpose of robbery, for his pocket book, which contained some money, was left untouched.
Mr. Varnell was a man of marked characteristics and though he had many warm friends, he had some bitter enemies. . .

What happened next was that both Fisher and Livingstone were released. I have not been able to find the particulars as to why the authorities chose this course. Hill County did not have a serviceable jail and McLennan had refused to put the men into their jail. One wonders if this played a roll in the release of these men.

Family stories have been passed down between each generation as to what happened next. There is actually more than one version, but I chose the most likely one which was a plot hatched by Docia Varnell and carried out by Tom P when enough time had passed where suspicion would not automatically fall on them. Did they have the right to take matters into their own hands? Since publishing the book, I've had more than one view expressed about this revenge killing.

While I had family stories of this killing that had been told for many years, I continued to search for any reference to either Fisher or Livingstone to support these stories until I came across a story in the Dallas Morning News, dated April 23, 1893. Here is the excerpt that seems to corroborate what may have happened since neither Tom P nor his mother were ever charged with anything concerning what may have happened to Fisher:

…Twenty years ago or more his [Tom P's] father, Isaac Varnell, became involved in a serious quarrel with a neighbor by the name of Fisher, and before its culmination both of the original participants had violent and tragic deaths…

Revenge and assassination. Both were part of life on the Texas frontier!