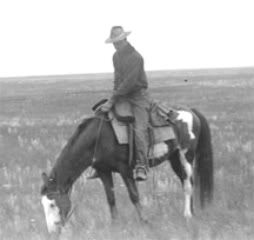 I gave, in an earlier blog entry, some background information on Tom P and his family, the Varnells. While researching, I came across the personal account of Robert W. Keen who grew up in Dallas County. He was born in 1864 (two years later than Tom P) and at a young age became a cowboy, working on various ranches including the Dash L and Motley Ranch. His account was taken during the Federal Writers' Project and is located at the Library of Congress. In his account he talks about Tom Varnell. Here are some quotes from his accounts:
"Kretrell [ranch owner] spent a large part of his time watching for the Indians, and he was good at it, too. He would lets us know ahead of time, when to expect a visit. Kretrell was quarter Indian and I guess that was the reason he could tell before hand
when to expect a call. He knew their nature. He would ride over the range, looking fo
r them with a spy glass. He could tell by their actions when he spotted a bunch, just what they intended doing. Tom Varnell was also a good hand at reckoning the
visit of the vermin.". . .


and
"Tom Varnell was the best shot and roper in that section. That boy could make a rope land where he wanted it about a critter. Leg, head, or tail. About his shooting, well, he just couldn't miss and he was fast. He would often practice and have shooting matches. I have seen Tom shooting at a mark from a 50 yard distance and put
six shots in a spot the size of a silver dollar, and do it in less than five seconds. He could sure fan that hammer.". . .
It's not clear when Robert Keen worked with Tom P. It could have been when they were teenagers or when Tom P was on the run from the law after killing Mr. Land. Regardless, it is evident that he was respected as a cowboy and sureshot.