As the Land killing played across Texas, the hunt for Tom Varnell came to the attention of a national men's magazine,

The National Police Gazette

, which styled itself as "The Leading Illustrated Sporting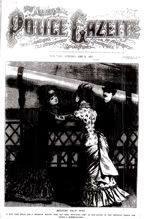 Journal of America." Actually this magazine printed in New York City was somewhat equivalent to the modern day

National Enquirer

. The magazine was divided between sports
news and crime. The hyperbole is very evident, but it did sell th
e magazine. Many barber shops across
America subscribed to the

Gazette

for its customers to peruse while waiting to be barbered. Here is the cover to the issue that ran the story on Tom Varnell. Only a small portion of the story b
ears any resemblance to the actual events but is indicative of why Tom Varnell was considered so notorious and why he hesitated to turn himself into the sheriff
.
Wanted by Judge Lynch


Thomas P Varnell whose portrait we published is
wanted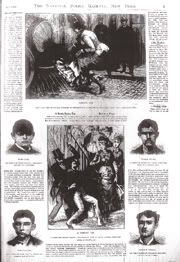 for a double crime of unexampled atrocity. The particulars of the same are as follows: Varnell is a Hillsboro (Texas) saloonkeeper. Accompanied by a crony named George Walker, he wen
t to Hubbard on March 7th to take part in a dance at the home of J. H. Land, a respectable farmer. After midnight Varnell approached one of Mr. Land's
daughters and forced her at the end of a six-shooter to leave the house with him. When outside with his weapon to compel ac
quiescence, he accomplished her ruin. Her sister who approached upon the scene soon after realized that something horrible had happened, threatened to raise an alarm. She was
quieted by the presentation of t
he ever-ready pistol and forbidden from opening her mouth or she would be shot. About this time, Mr
. Land, the father of the girls, appeared, and ordered them both to the house with the r
emark that there was the best place for them. Varnell presented his pistol at Mr. Land and fired, the ball passing through his heart. As Land fell, Varnell fired again, the second shot taking effect in his left shoulder. The pistol used carried a ball of .44 calibre, and the wounds inflicted were fearful. So close was Varnell to Land when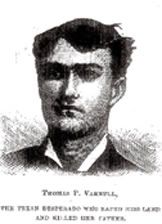 he shot him that the clothing of Land was powder burned and forced
into the hole made by the bullet. Immediately after the shooting Varnell
and Walker made their escape and have not since been hear
d from. The citizens are fearfully incensed at the outrage, and Judge Lynch will be
apt to hold a special term of court if Varnell is caught in the neighborhood. Mr. Land was a man of considerable wealth, and had been in the neighborhood of Hubbard City about twelve months. He was highly respected, and he and his family enjoyed a fine reputation. A reward is offered for Varnell's capture.